AdWords Tools
One of my favourite AdWords Editor new feature (AdWords Editor 6.5) is the ability to expand keywords using the new AdWords keyword expansion feature, embedded in AdWords Editor.
AdWords Editor developpers inserted a new button Keyword Opportunities that is displayed at the top when looking at your keyword list from the "Keywords" tab.

If you can't see it, maybe you use a non-English version and you may not have this button standing there (that's the case for the French version for instance). To solve this, you can use the link at the bottom called "Keyword Opportunities (Beta)". Or you can switch language to English in "Tools - Settings - Locale".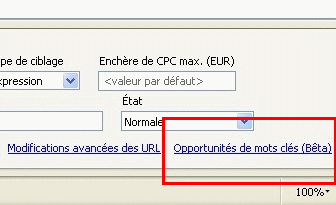 Then you will have a pop window where you can expand your keyword lists by basically using Google AdWords Keyword tool through AdWords Editor. You will have information about search volumes (scaled from 1 to 5) and how important the competition is for these keywords (scaled from 1 to 5 as well). Then, it's up to you to include them or not in ad groups of your choice thanks to the AdWords account navigation tree on the right hand side of the screen.
Then you have the Keyword Multiplier tab (check also this post related to KeyWord Multiplier ) that allows to merge keywords together to build more extended keyword lists (and especially long-tail keyword lists).
This one is my second favourite feature which I will talk about in a second short article.
Free download a Firefox extension that allows you to multiply keywords directly from your browser Firefox. It offers many options to merge your keywords like applying keyword matching options. Just enter or paste keywords to the 3 columns and click and get your multiplied keywords.
Read more...

We strongly recommend any AdWords advertiser to manage their campaigns with AdWords Editor.

Main AdWords Editor Features:

Work offline on your Mac or PC.
Upload changes to AdWords any time.
Store and navigate one or more accounts.
Add, edit, and delete campaigns, ad groups, ads, keywords, and placements.
Make large-scale changes quickly.
Perform advanced searches and edits.
Add comments for your changes.
Sort and view performance statistics.
Copy or move items between campaigns, ad groups, and accounts.
Export a snapshot of your account for archiving or sharing.
Import an archive or share file and review the proposed changes.

Need to check your ad ranking? Is your new ad text online? Don't use the classic Google search page, but Google AdPreview.

https://adwords.google.com/select/AdTargetingPreviewTool

This way you can test your keywords as many times as you want, without impacting all advertisers statistics.